About California Cancer Registry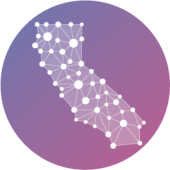 California Cancer Registry (CCR) is a program of the California Department of Public Health's Chronic Disease Surveillance and Research Branch (CDSRB). It is a statewide population-based cancer registry that collects information about almost all cancers diagnosed in California. State law requires all cancers* diagnosed in California to be reported. CCR aggregates this data, performs many phases of quality control, and analyzes the data on a statewide basis.
These programs collaborate the ongoing work of CCR:

California also participates in the Centers for Disease Control and Prevention's (CDC) National Program of Cancer Registries (NPCR) and in the Surveillance, Epidemiology, and End Results (SEER) program of the National Cancer Institute (NCI). CCR data meets all NPCR and SEER standards for quality, timeliness, and completeness. At CCR, our primary goals are to continue to streamline the process of reporting and to ensure that the data we obtain is of the highest accuracy and quality.
*CCR does not collect data on non-melanoma skin cancers and carcinoma in situ of the cervix.
CCR is an Integrated Surveillance Program

Physicians, pathologists, hospitals, and treatment facilities collect and report cancer data.

CCR receives this data and checks for accuracy.

Researchers use CCR data to make new discoveries about cancer diagnosis, patterns, and treatment outcomes.
What has CCR accomplished?
Among its considerable contributions, CCR:
Is internationally recognized for its high-quality data
Brings millions of research dollars to California
Provides information on cancer rates among the state's diverse racial/ethnic groups
Is a data source for hundreds of publications on numerous types of cancers, which can be found in the CCR Data Library
Provides the public access to state-, regional-, and county-level cancer incidence and mortality rates, which can be accessed using our Interactive Query Tool