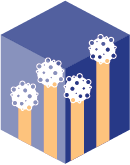 More About Cancer Rates
CCR collects data and reports a wide range of cancer information. This section provides answers to some of the most common questions we hear about cancer rates.
How do cancer rates in California compare to the United States as a whole?
Cancer rates for the United States are estimated by the Surveillance, Epidemiology, and End Results (SEER) Program. The SEER Program registers cancer patients in geographic areas covering about 26% of the U.S. population, including all of California.
The overall cancer incidence rate in California was among the lowest in the nation. California cancer incidence rates for Asian/Pacific Islanders, African Americans, and non-Hispanic whites were between 2%-5% lower than the nation. Hispanics in California had about 9% lower incidence rate than other Hispanics in the nation. Some of the differences in rates may reflect race/ethnicity classification differences between CCR and SEER.
Are cancer rates in California going down?
Overall, cancer incidence rates in California have declined by 14.8% from 1988 to 2015. Over the same period, cancer mortality rates declined by 31%. Mortality rates declined for all 4 major racial/ethnic groups in the state. Specifically, tobacco-related cancers continue to decline, including cancers of the lung and bronchus, larynx, oral cavity, pancreas, stomach, and bladder. California has experienced a much larger decrease in lung cancer incidence rates than the United States in large part due to the success of the California tobacco control initiative.
However, even if the rates of cancer change very little, the number of people who develop cancer will increase as the population gets older. Combined with the fact that more people are surviving cancer and that people discuss cancer more readily, this may contribute to the widespread impression that the risk of developing cancer has increased recently.
How does cancer compare to other causes of death in California such as heart disease?
Cancer is fast approaching heart disease as the leading cause of death in California. In 2015, 23.1% of all California deaths were due to cancer compared to 23.3% due to heart disease, the leading cause of death, and 5% due to stroke, the third leading cause of death. However, cancer has surpassed heart disease as the leading cause of death for Americans under the age of 85.
How can I access data on cancer rates in California, in my county, and/or in my city?
Some data from CCR is available to the public and can be used for such purposes as research, program planning, and grant applications.
CCR has an online data and mapping system called the Interactive Query Tool that allows you to generate customized maps and tables of California cancer incidence or mortality rates by sex, race/ethnicity and county (for individual counties that have populations large enough to produce stable rates). Access the CCR Interactive Query Tool to view customizable maps and tables.
The estimated number of cancer cases and deaths for the years 1988 to 2015 can be found by accessing the CCR Data Library. CCR does not produce cancer rates for cities, because population data for cities are not available in the age group, gender, and race/ethnicity categories required.
How can I find out more about a particular cancer?
National Cancer Institute's Cancer Information Service at 1-800-4-CANCER (1-800-422-6237) and voluntary organizations such as the American Cancer Society (1-800-ACS-2345) (or the ACS office in your area) provide information on cancers. The Centers for Disease Control and Prevention is also an excellent resource for information on cancer.
California Department of Public Health offers a number of programs that focus on cancer prevention, control, screening, and/or treatment including the California Obesity Prevention Program, Network for a Healthy California, California Tobacco Control Program, California Colon Cancer Control Program, and Comprehensive Cancer Control Program.