Data Standards and Reporting
Cancer reporting has been required by California State law since 1985. All cancer professionals and facilities responsible for treating or diagnosing patients with cancer are required to report demographic, diagnostic, and treatment data to California Cancer Registry (CCR). This includes hospitals, physicians, and pathologists.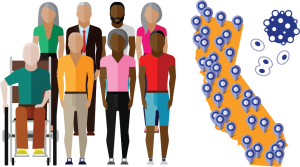 Because statewide and national reporting requirements are constantly changing and evolving, CCR strives to provide updated information in the clearest and most timely way possible. CCR is continually working to improve the quality of data collected and to streamline the reporting process.
In this section, you will find all of the tools and resources needed to report cancer information accurately and efficiently, whether you work at a hospital, are a physician, pathologist, cancer registrar, or other professional who is responsible for reporting or for meeting data quality submission standards.
Acknowledgement and Disclaimer
All publications shall contain the following acknowledgement and disclaimer:
The collection of cancer incidence data used in this study was supported by the California Department of Public Health pursuant to California Health and Safety Code Section 103885; Centers for Disease Control and Prevention's (CDC) National Program of Cancer Registries, under cooperative agreement 5NU58DP006344; the National Cancer Institute's Surveillance, Epidemiology and End Results Program under contract HHSN261201800032I awarded to the University of California, San Francisco, contract HHSN261201800015I awarded to the University of Southern California, and contract HHSN261201800009I awarded to the Public Health Institute. The ideas and opinions expressed herein are those of the author(s) and do not necessarily reflect the opinions of the State of California, Department of Public Health, the National Cancer Institute, and the Centers for Disease Control and Prevention or their Contractors and Subcontractors.
Reporting News
All pathologists are required to report cancer diagnoses electronically before January 1, 2019.
Learn more about implementing AB 2325, register to report, upload data, or use our self-testing portal.*
*Self-validation is used to test HL7 message structure. It does not validate content.